Why? Filipino-American Family asks in anguish.
Information Systems Technician Tim Gauna, 21, of Rice, Texas, was a 1997 graduate of Ennis High School. Teachers said he was a quiet student who excelled in baseball and art. In 1999, he joined the Navy as a radio man.
"He went there to better himself, to make a better life for himself," said his mother, Sarah Gauna. The family last heard from Gauna by phone a few days ago as the USS Cole headed for a secret destination.
"He just kept saying, We're in dangerous waters, Mom, but we're OK. I'll be OK. I promise you,'" Sarah Gauna said.
Tim was half right.
A bomb in the Yemeni port of Aden rocked USS Cole, the Aegis-class destroyer in Oct 12, 2000.  The ship, carrying 352 crewmembers, was hit in an apparent terrorist attack Thursday, leaving 17 dead. Two Filipino-American sailors from Texas, Petty Officer 3rd Class Ronchester Santiago, 22, of Kingsville and Information Systems Technician Tim Gauna, 21, of Rice were among the 17 dead.
  

Have we ever experienced the bewilderment of Sarah 

Gauna

, who said she would never hang up the phone with her boy until she had made him laugh, as she waited days to learn the awful truth about Timothy?
<![if !supportEmptyParas]> <![endif]>
The badly damaged USS Cole was towed back to US shipyard for repair. Recently the ship's Captain visited the family and as reported by the Dallas morning News:
<![if !supportEmptyParas]> <![endif]>
Painful visit
Meeting with Cole commander offers slight comfort to mother of Texan who died
Monday was the day Tim Gauna was supposed to come home. The Navy had scheduled a little shore time for the 21-year-old, time for him to play sandlot baseball, see his family and impress his friends with tales of adventure. He was going to be back for his mother's birthday.
Instead, Sarah Gauna got a less-welcome visitor Sunday. Two men from her son's ship, the USS Cole, came to this small Texas town and tried to do the impossible: comfort her, console her and answer her unanswerable questions.
Seaman Gauna was one of the 17 sailors killed Oct. 12 when suicide bombers attacked the Cole in Yemen.
"I never thought in my wildest dreams that my son would be a hero," Ms. Gauna said, crying and tightly clutching a photo of her son. "My son is a hero."
Cmdr. Kirk Lippold, the Cole's captain, and Master Chief James Parlier are visiting the families of the 17 victims to offer condolences and answer what questions they can about the attack. Ms. Gauna was armed with dozens of questions, many about mistakes she believed the commander made that helped make the bombing possible.
When the men arrived at the home of Seaman Gauna's uncle, James, Ms. Gauna kept them waiting for a few minutes before agreeing to see them. She hugged Master Chief Parlier, who had known her son on board the ship, then moved to the commander.
Cmdr. Lippold reached out to hug her, but she hesitated. After he wrapped his arms around her, she began to cry out: "Why Tim?"
"I'm sorry," he half-whispered.
Her reply, muffled in his Navy dress blues: "Are you?"
"Yes, I am," he answered.
Then the Gauna family met in private with Cmdr. Lippold and Master Chief Parlier for about two hours. Ms. Gauna had brought a 4-inch-thick binder of documents about the explosion, with dozens of passages highlighted to remind her of questions to ask. But her tears prevented her from asking many.
In any event, she said she didn't expect honest answers. "I told him, 'You'll never give me the truth.' I don't trust anybody. I don't trust the government, the Navy people," she said after the meeting.
Cmdr. Lippold, who left the meeting without comment, has been criticized by the victims' families and a Navy investigation for failing to carry out security measures before the Cole docked in Yemen, a country known for terrorist activity. But when the investigation was closed last month by Defense Department officials, Cmdr. Lippold was not disciplined, in part because investigators found he had not been properly informed about the potential threat.
Ms. Gauna is not as generous. "I told him I don't think he should be a commander of a ship anymore," she said. "I told him that to his face."
She first heard from the commander in a phone call shortly after the attack; she was so enraged she hung up on him. He offered to visit her at home, and she found him to be more sorrowful than she had expected.
"We were talking about how he played baseball and the funeral, and he started crying. He asked for a tissue. He said, 'That's what makes me cry, when I hear how other people cared about him.'"
Ms. Gauna is still fighting for her son, almost four months after his death. She battles with the Navy to reclaim his personal effects, including a baseball glove and a cross. She battles with the maintenance crew at the local cemetery where her son is buried, when they're too quick to remove the fresh roses she leaves him every day. She battles with emotions she says only 16 other mothers can understand.
"We try to shut one door, and another one opens," said James Gauna, Seaman Gauna's uncle. "And each one gets harder to close."
Every day, Ms. Gauna visits her son's grave and reads Bible passages to him. "He tells me, 'You're doing good, Mom, you're doing good.' I know now I'm going to heaven to be with him."
Even after the visit, Ms. Gauna isn't a fan of Cmdr. Lippold. She believes that his actions were partially to blame for what happened Oct. 12. But the meeting brought the mother and the commander an inch or two closer to an understanding, if not a truce.
"When he came in, he hugged me, but I couldn't hug him," she said. "But when he was leaving, I did hug him. Because he is hurting. Not in the same way we are, but he is hurting."
``He (Ronchester Santiago) was attracted to the adventure in the Navy,'' said his father, Rogelio Santiago, a retired Navy petty officer 1st class. ``He wanted to see the world. He just wanted the experience.''
"Will we ever understand the loss of Ron?" his father Rogelio Santiago asked, a Navy veteran himself, who was planning a trip with his son Ron to his native Philippines in December? (

From the Congressional Record Online)
<![if !supportEmptyParas]> <![endif]>
    

We cannot feel the depth of sorrow of these families, but we are all diminished by their loss because U.S.S. Cole was a small patch of American soil and on that patch we lost our own.
  

Today, as we come and go in our ordinary routine, life is anything but routine for those they left behind. 
<![if !supportEmptyParas]> <![endif]>
<![if !supportEmptyParas]> <![endif]>
From combined news reports
Sources:
Painful visit
By Joshua Benton / The Dallas Morning News
______________________________________________________________________________
Mother says, "I just hope this will send a message to the terrorists -- we will have justice served,"..
Sgt Jesse Nathanael Aliganga, USM (MSG)
In Tallahassee, relatives of Jesse Nathanael Aliganga, a 21-year-old Marine sergeant also killed in the bombing remembered him as a little guy with a big heart.
"He had so many goals," said his mother, Clara Aliganga, 43, who runs a day-care center out of her home. He wanted to make sergeant in his first four-year tour, and was proud when he did in July. After postings in Okinawa, Japan and Camp Pendleton, Calif., Aliganga finished the security guard school in Quantico and was sent to Nairobi.
Aliganga was born in Oakland, Calif., and grew up in Pensacola, Fla., becoming an energetic and ambitious youth who liked drawing, reading Greek mythology, playing the saxophone in his high school band and collecting comic books, family members recalled.
When he was assigned to Nairobi in February, his sister, Leah Colston said: "My mother had great misgivings. . . . You hear about these things that can happen." But her brother seemed happy.
At first, Clara Aliganga said, the State Department told her that Nathan was in the hospital. But later Friday, she learned that he was listed as missing. And yesterday morning military officials came to her home. "They said he . . . had died at his post," she said.
His sister said the family is hurting. "He promised us he was going to come home," she said.
"It doesn't end the pain," Clara Aliganga told reporters afterward. Her son, Nathan, was killed in the blast. "I just hope this will send a message to the terrorists -- we will have justice served," she said
At the trial:
<![if !supportEmptyParas]> <![endif]>
Jurors and spectators cried again during testimony by the prosecution's final witness, Clara Aliganga, of Tallahassee, Fla. The witness -- mother of Sgt. Nathan Aliganga, 21, a Marine who died in Nairobi -- said she wished her son could "hold me so tight like he used to and say, `Mom, I love you."'
The mother of a 20-year-old US Marine guard killed by the bomb told the jury that her son had had a close relationship with his young niece. "All she ever heard was that her uncle had gone to heaven," testified Clara Aliganga. "And one day she asked when he would be coming home. She said, God has had him up there an awfully long time."
Clara Aliganga, mother of Jesse Aliganga, Marine sergeant killed in Kenya (speaking outside courtroom):
"I'm happy for the verdict that came through .... It doesn't erase the pain. The jury did an excellent job, and I just hope that this will give a message to the terrorists that we won't take this lightly as Americans, that there will be justice to the families when they attack us, that we're not just going to sit back and not do anything about it. We will take it to court and that we'll see justice is served."
<![if !supportEmptyParas]> <![endif]>
<![if !vml]>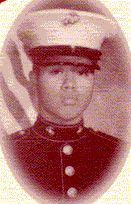 <![endif]>
Marine Sgt. Jesse Nathan Aliganga
U.S. Marine Corp
Proudly Served Our Nation
Died August 7 1998
Terrorism- Nairobi, Kenya Africa
From combined news sources…